What do you need? Training? Support?
My experience is that most businesses, groups and individuals probably need a bit of both.This is where our conversation begins for me to give the best possible service and consultancy. Prior to being a trainer I spent 2 years as an Internet support agent, so your situation won't surprise me. My work in various communities over 18 years has given me insights into common problems which I can help with.
Community groups | Carers | Training and consultancy | Support and guidance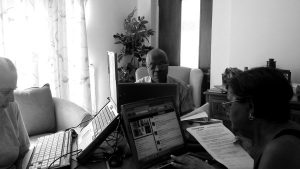 Community groups need good digital volunteers
You'll probably need someone who can build the basic site, and then have somebody to update it. Social media and making flyers all takes time too, and if you have good volunteers on hand but no workflow/editorial approach, things can get messy. Keep your message, build trust with your community base and train up volunteers.
WordPress Website builds include 2 hours of training for updating. Extra costs for design work such as logos and copywriting. £300 starting cost.
Desktop Publishing sessions can be done individually, but best delivered as a starter course for 3 sessions: £125
Support options available, get in touch if you want to talk it over.
Your group may be working with older or physically disabled people; have a comfortably digital talk, pop up training session or a digital bazaar where access problems can be discussed directly.
Carers need to have digital skills
Modern care work is becoming digitally enhanced to enable people in having independent lives. As such care workers need to have skills and literacy to use technology, engage with its use creatively as a toolbox, adding value and be able to resolve issues that arise – sometimes it really is just turning things off and on again. Unpaid carers, especially older people, are being pushed into situations where a mobile phone and online form filling is becoming the norm unfortunately. Training carers should not be a classroom exercise, but treated as a conversation with problems aired, discussed, shared, and methods of action to enable people to care for their charges. Writing and drawing is encouraged before even touching a screen or keyboard. Costs depend on numbers and requirement.
Management training and consultancy – 'being digital for best service'
This is a short course designed to give Care Managers an idea about issues with front line person centred digital approaches. Assist with enabling staff and clients to own digital devices, insight into resolving problems (is it really a digital problem or one of mindset?) and enhance collaboration with activity coordinators.
Support and Guidance
Visiting tuition and support services available for individuals, companies and small organisations; I'm quite happy to be involved with helping develop services in localities and communities. As a support technician there are no warranties, but good value is guaranteed.