For some time YT has been wondering how to get people practising at home with their device; of course some people do, but some times things in a class or a 'tech surgery' may not register beyond a few minutes. As a response, here's two versions of the '20 minute challenge' for you to try at home. This is been written just before Christmas, so if you have a new 'digital gadget' this is a great way to start taming it!
Version 1 – 'problems and managed to achieve'
What you will need:
a note book – if you've attended a session you will definitely have one to hand.
a working pen
your device (choose just one if you own more than one)
Got everything? Lets start.
Write your goal at the top of a blank page. You may have difficulty finding the words, but give yourself a moment to make a few notes beforehand about activities you would like to accomplish.
Here are a few examples to give you an idea:
"I want to send a photograph to a friend from my phone using email"
"I want to add someone to my contacts list (address book) on my tablet"
"I want to try and look for some things as gift ideas"
"I want to practice sending messages on my phone"
Keep it as simple and straight forward as possible!
Now you have a goal, draw a line down the page splitting it into two. On the left side write Things I managed to do, on the right side write Things I had problems with.
Now check the time, start a timer and have a go! This is an activity that can be done on your own or with a friend or family member, but make sure that you note down if someone else assists with a sticky problem. You may have twenty minutes, but prepared for surprises if you take your time – much can be achieved.
When the 20 minutes are up, check how close to the goal you got, and also making sure that anyone that helped gets a mention as to who helped and what they did.
If the goal was completed, brilliant! Good work. If there were more problems than things managed then that is something to ask about or to look into. Remember that your device could be the problem, and it may not be right 'gadget' for you or set up for you to be used comfortably.
An example for you: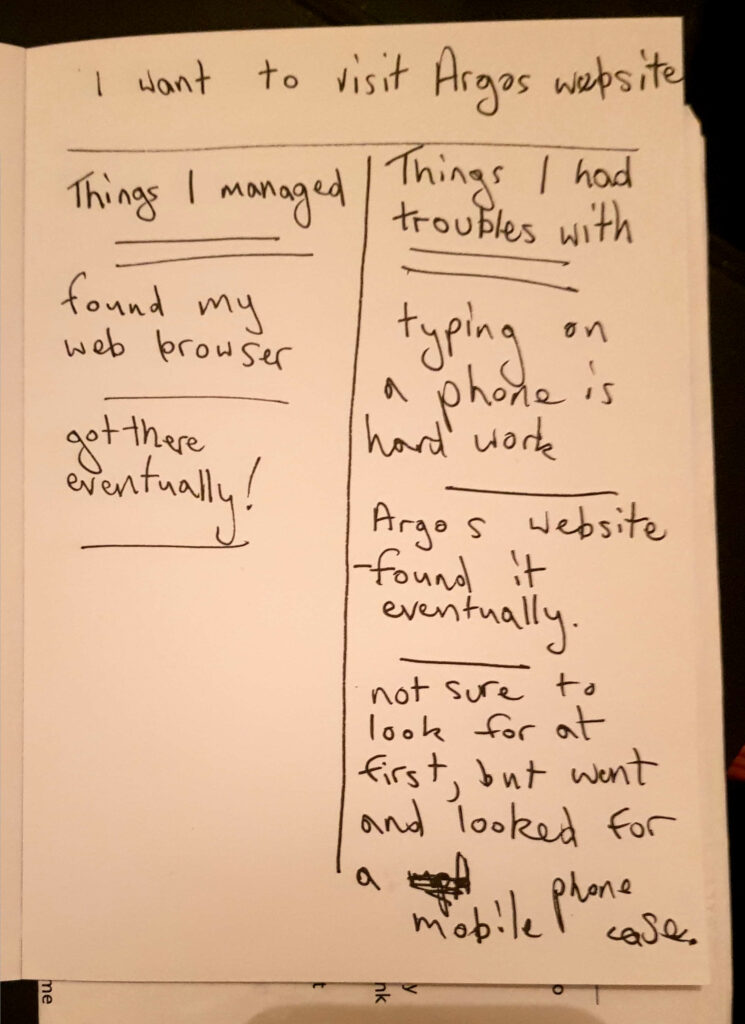 Version 2: You could try the advanced version if you want…
Its not so advanced, just has more places to put information. You can make your own pages, use a guide to make the sections.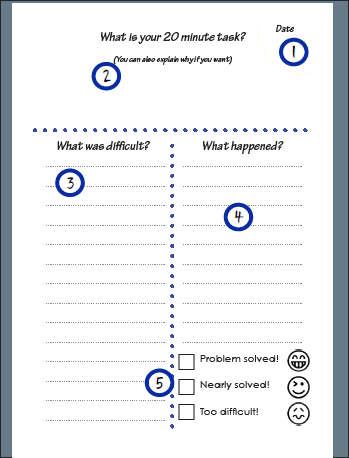 Start with a date
Write your goal
Make sure you write what was difficult
Write down if you had some help, if you've found something interesting
Now you make a mark in the box describing how the 20 minutes went
You can download it here:
If you don't achieve your goal, what next?
The 20 minute challenge really gets interesting when you do one challenge/goal a day and read your previous day's writing. Even if you don't make a challenge a day, before starting a new page, have a look at what happened previously. It will help you make a new challenge; solve three challenges and feel like your device is doing as its told!