Some time ago I wrote about using a computer using software to make life easier. This time I'm coming back to the subject, talking about specifically Screen Magnifiers on different types of computers.
As the name suggests, this is software which allows the screen display to be magnified, giving a Visually Impaired (VI) user  an equal chance in moving around the computer with a mouse (or keyboard) to use the Graphical User Interface (GUI – pronounced 'gooey'). The GUI includes all of the buttons, windows, icons and menus we take for granted on pretty much all modern computers. It make the whole computer experience easier to use if you know what the 'window furniture' does.
Something to bear in mind…
Working with computers needs to have a monitor…or a TV to plug into. If you want to enjoy pictures, music or films a modern TV can be plugged in to have some entertainment and fun stuff.  Depending on your vision requirements you may need to have different distances to use a computer. You may not need a computer at all, and an iPad or cheaper Android tablet may be a better option for you.
More to come about that another day, but you could always contact me to discuss this.
Windows 7 Magnifier
Dolphin Magnifier Reader (Supernova)
Apple Mac OSX and a difference
Ubuntu and Orca
Conclusion
This has to be the best improvement in accessibility that Microsoft has done. Previous versions of the magnifier in XP (I will forget Vista if you don't mind) and before were very poor, with no full screen option, and it was very clunky to use generally. The latest upgrade is stunning, and to get the best out of it needs a little tuning in the options .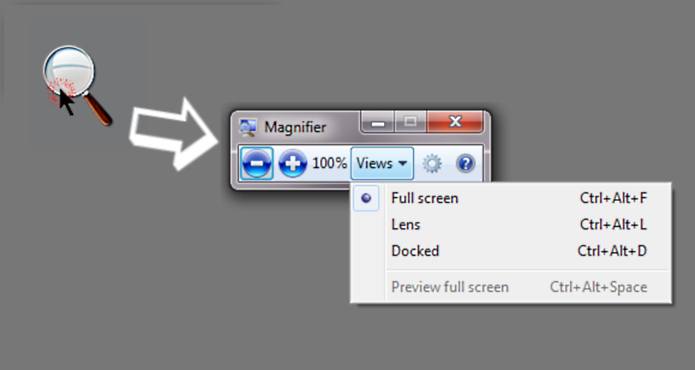 I installed the XP version on my windows 7 machine by mistake,and it worked well for a minute or so before crashing…I mention this because when I went through the process of installing the latest version as a trial which didn't crash, but was very sluggish on my machine.