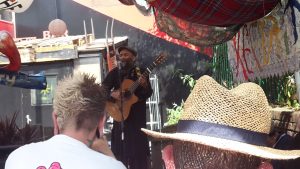 As outlined in the last post, YT has been assisting Babar Luck with his portable merch box – a tweaked Mazizone, renamed 'Babar Luck's Spaceship'. As it often is with projects to extend a person's creative practice, various aspects of the work come to the foreground, mainly the aspects that have been left as the most awkward – in the case of most artists and musicians its the actual money making, which is a necessary, but largely administrative part of the work.
The training sessions had a few goals principally to focus Babar on two events: the first was orchestrated by James to introduce him to Central Saint Martin's design students, a 'crossing of the streams' of two different projects to derive some creative potential. The second was a gig at the notorious Bird's Nest in Deptford. Both events were to give Babar's Spaceship a chance to push tunes / merchandise and potentially start his own localised marketing. What Mr.Luck and I unearthed after getting to grips with the technical detail was the lack of a working PayPal account and an email address that had a long forgotten password. An Australian smart phone didn't help matters.
Who's to Pay you Pal?
Having a very local 'website in a box' had really given Babar insight as to the ownership responsibilities of an online presence, his general confidence of using a computer developing in tandem. When we had the 'Paypal conversation', there was a real difficulty of getting things to work in a system that had crucial detail long forgotten and thrown into the backyard of yesterday's memories. These sessions were more than just the development of content and learning a new system, but a re-framing and revaluation of how Babar sold himself – the last thing that an artist does quite often. After trying to set up his existing PayPal account with another email address came to a full stop (I sent £2 and it didn't arrive) we tried again with a fresh account. This didn't work at first because Babar had had a lapse of referring to his notes and used an incorrect address in the setup, which I tried to verify, but unsuccessfully it seems. Yahoo.com and Yahoo.co.uk is a constant issue for people not really sure about email addresses, even though the web addresses point to the same place – emails don't. It took some fiddling around, but we got the account set up and transferred monies…which then brought us back to how to pitch himself and the 'spaceship'.
The 'giggs'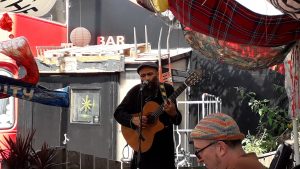 From talking to James and Babar, the CSM gig was a mix of designer students and their attendant attitude, with Babar restraining his cheeky self, but still not quite confident in his use of the Mazizone or pitching himself with the potential of the device. The main 'gigg' as the testing arena for the 'zone was at the Bird's Nest on a sunny Sunday afternoon, an emotionally charged event; he had managed to invite family members that hardly ever see him play. James and YT were on hand to help with the set up. We had made some flyers, YT attempting to get some locals into the 'zone using the flyer, but efforts seemed to fall into the usual trap – invisible and too many steps (or technical issues – got an iphone? makes things harder) to a satisfactory outcome. A new name for the 'zone was needed in my opinion, James rejoinder was the 'Togbox' – a shortening of 'Together' which is the English translation of Mazi. YT will be trying to use the new name as much as possible.
Upon reflection, after the musical projection
Babar realised he was getting some useful training with using his computer and the potentially the ownership of his general online presence. He, James and YT talked about how to start the process of transferring details from the existing curator; then to creating better notices for the 'spaceship', which turned into business cards – courtesy of Vistaprint and my design skills. This lifted Babar's interest further as he could use the cards to distribute for more general purposes other than Babar's spaceship, using the correct PayPal details. From a nervous low level user to a more engaged artist with goals of getting paid, all along Babar had been given ownership of every technical idea thrown at him, which paid dividends – he also managed to get hold of a UK mobile phone too courtesy of the project.