Since the last post, participants and myself have had to work at this new way of doing things. YT has hope in the building of some bridges; had some very positive commentary from participants.
Filling the gaps in the title
17 sessions is a lot of work generally, with the added change of an online 'Zoomed' approach; becoming a technical support agent again was an interesting piece of career karma – essentially my first job in London was with an Internet Service Provider. Firstly in the sales team, then tech support. This post outlines recent times, not what happened many years ago; moving on and working into the present and future, where the training, socialising and supporting are a mix. I'm starting this piece on the day of the last session.
BC (Before Coronavirus) what were the classes like?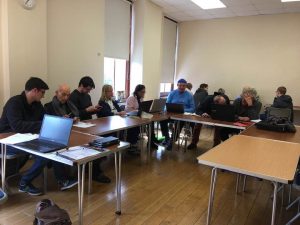 Lively interaction required. Notebook (with a hard cover, no journalist notepads) promoted, extolled and positively pushed constantly as a resource for drawing, not just writing. Sometimes too many volunteers to help (which is a mixed kind of amazing thing to happen) and a tea break to have a good division between my role playing foolishness and then one to one support with devices. Building a club of sorts to gain the trust required for a hope of emergent learning and participants being able to find their digital 'mojo' and find fun, practicality and use for the lumps of glass and plastic that do maybe too many things. Drinking tea and finding new friends is part of the hidden curriculum, there was hardly any homework except to read and make notes. More details about previous sessions here and here.
So now its a different time,
and online meetings are common place.

Initial sessions were exploratory and tentative for all participants and YT, the host. We were acting out the Mycenae Digital slogan – 'Getting online together'. Notebooks are still promoted and recommended.
Sessions started out with 4- 6 attendees. As things settled in there was a very direct need to move away from the anarchic game show style of delivery and have very themed approaches with space to talk, a question and answer spot – all fraught with people talking together and over each other, missing cues and all the things that happen when that mute all button is not switched on when presenting … the initial weeks were about finding controls and working how to make things work well for everyone. There was a growing indicator that people had time on their hands to practice, but direct support was really needed.
'Inspect Your Gadget' becomes
'Tech Support Tuesday'
Fortnightly Tuesdays at Mycenae House were one to one IYG sessions, a support mechanism to give people more focused time which couldn't always be given to stickier tech issues; setting up things for best use and dealing with difficulties. To transfer this situation to phone support meant a new phone number – this took a number of weeks to arrive, which was frustrating. Nonetheless, weekly support calls became a great way to phone up the Mycenae Digital participants (around 60 project sign ups) ask how things were, and offer some direct support time. Everyone called was really appreciative, and those one or two folks that had real problems actually using their device, well that was a call to chat and catch up. This activity brought a new level of trust to the situation and what could be considered a backbone to the sessions – ad hoc marketing to build numbers, consolidation of support for participants and a way to just keep in touch with people. The tech support was strong in this one, it had to be.
Being supported by great volunteers.
As YT gained a level of understanding of virtual room management, it became clear that hosting needed support to get the best out of the situation; if things can be recorded then great, but as the host, this was doubly hard – it is almost impossible to effectively make notes of a meeting and chair the meeting. As the Tuesdays sessions became apparent to the group and call times were growing, so was a potential of asking volunteers to take calls. This added a layer of logistical complexity (SIM cards, 2nd phone availability) and safeguarding (DBS checks and accountability) amid the quarantine period – possible but not likely for a while. Anyhow, volunteers were asked to assist with Techy Time meetings; help with chats, whiteboards and general note taking. If it wasn't for Roger (our most venerable volunteer) giving his time, the sessions would have had burn out for the host very quickly. As a result, the classroom management improved and steadily participants actually 'got' the format and didn't always need to be muted during a presentation.
What happened in the new sessions?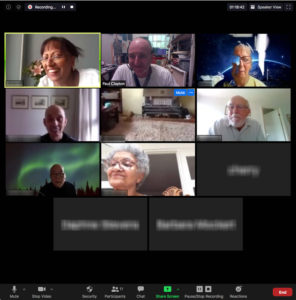 Getting used to Zoom controls as a start was the essential topic of the sessions – mainly because of the free 40 minutes which curtailed any real ongoing discussion. After 4 weeks the shift was made to a paid account and relocation to my studio (luckily only minutes away by bicycle) where internet access had a fibre connection and a dual monitor set up facilitated better room management. This was also logistical, as flat sharing and hosting meetings in the living room a happy flatmate during quarantine does not make. Hardly anyone was using the studios due to the situation so nobody could be disturbed either. As things have eased up over time it has become increasingly important to keep things quite quiet to avoid disrupting others. Sessions followed a straight forward format:
Wait for everyone to get in, chat and say hello
Start the presentation around a specific topic, welcome late comers
Muting participants during the presentation, but encouraged use of 'press to speak'.
Have opening questions around the topic, with whiteboard logging of notes.
Question and Answer session, with mentions made of any emails sent asking specific questions.
Bit of chat around the topic, or just chit chat
Finish up
How did that work?
Zoom had become popular for its easy access and availability (one of the project participants has no internet connection yet dials into a church service every week), but there was and continued to be problems with audio and video – in the end it was indicated that the best time to check these settings was in the waiting room. Very few people mentioned any other use beyond the sessions. As security issues prompted the waiting room and password protocols, this caused problems with people that just didn't read emails properly,or had issues reading – prompting YT to take away the password for a number of weeks to keep the group dynamic.
V5…
Zoom upgraded to version 5 including end to end encryption. The problems really started when people needed to update on Mac devices and as usual had no clue what their Apple ID was (no surprises as it is confusing).
Glitches really became the order of the day – people unable to join a meeting, a gallery view taken up with one person's face, on one occasion the chat area was not accessible at all, nothing could be typed. Note to Zoom: Yes, you're very busy but just sending emails indicating that the support request from 3 weeks ago is still in a queue does not help. Rewrite the support pages, some of them are truly awful.
Topics …
In no particular order: Staying safe online, Web browsers and search engines, Email, Entertainment, Social Media, Shopping, dealing with problems, and using Zoom. Each week's topic was announced and invited via email with a few day's notice to give people a chance to think about anything pertaining, but emails were few and far between until the sessions hit double figures. Follow up messages (tone: upbeat and cheeky) were sent out ASAP after the Wednesday meetup to keep things fresh – links to sites discussed, audio/video recording of the meeting, any notes taken sent too. A quiz composed of content from previous sessions was used as the core of one meeting , with mixed responses, but apparently received well.
Any Outcomes?
The sessions provided a 'focused use' for people with no computer just a tablet device – only one person attempted to join in via smart phone, and all the group saw was a garden; the person needed the phone close as the audio was poor.
Given the quarantine and time to spend, many participants did show an improvement in their use of their devices, witnessed through their regular use of email and Zoom. A couple of participants decided to upgrade their devices, with some people asking questions about upgrading and using different devices – one participant used an overly sensitive laptop track pad and needed overall and ergonomic advice ; also a reminder that 'laptops' are called notebooks now because they shouldn't be on your lap (especially if you're built with genitals on the outside to keep them cool). Roughly 90% of the membership received support calls, with only a 3 or 4 people declining the service.
What was learned?
Intermediated talks are hard.
Conversations and digital confidence meetups are hard without real interaction to give people confidence – remote control (albeit slow) of a device via Zoom is possible and started by a meeting participant requesting access by the host. This has been especially frustrating during a meeting, and again a valid reason to have a trusty volunteer taking the reins of conversation while YT the host digital fiddles around with settings. One particularly awkward 'upside down screen' participant had me really stumped; it was a *cough* funny little virtual background feature which I'm sure would be a hoot in business circles. 'I've moved to Australia'. Ha ha.
Support calls are really valuable
Unlike the hard shifts over a hot phone as a support agent, support calls were built around requests, perceived need and catching up with registered participants who had not been attending sessions for a while. Being able to help directly rather than 'directions via phone' was a trust based situation rewarding to both parties. A good headset is invaluable.
Good hosting is not natural online
YT had to find a number of online talks about best practice, teaching and training via Zoom. Each one offered a useful piece of information, with very little for adult learners needing chat time. Classroom management is not the same as IRL (In Real Life), but there are similarities in keeping the delivery going. Really interesting yet daunting were the moments when a question was asked of participants with only silence as a reply. In a real world session the question would then be directed to a volunteer, or a small 'game show host' moment to prompt a chuckle. In the video space, this doesn't translate too well; my co-host thankfully jumping into the topic readily and help out. Otherwise the silence sat heavy, but keeping a sense of chat and friendly banter generally kept things lively.
Forming a 'club' is a mixed blessing.
Having open invitations for digital support and opportunities to socialise in Mycenae House was something YT was used to, with the awareness that amidst the potential for friendships that cliques can form. Clubs can turn an open session into a closed shop of learning; a precarious situation as trust between adults needs to happen before emergent learning can happen. As the group is formed around socialising and reducing isolation, it has to happen and had to be non toxic; open conversation and open space approaches were applied in the real world yet imposed and somewhat curtailed in a video meetup. The dedicated participants followed online keeping their good humour; having a regular mail out to the wider group seemed useful and worthwhile but badly done on my part, didn't make a mailchimp list and as such the recipient list was a nightmare working on different machines.
Moving to a 'hybrid' Techy Time
Following the transition from quarantine to socially distanced session will be optimal to keep things moving and expand the audience, the hope being to bring Zoom and the real meet up into some form of useful format. My thinking is about keeping the presentation aspect and only recording / distributing the presentation, leaving questions and answers to be noted for regular mailouts. Structure and a format for keeping things going; dare to speak of a marathon rather than a sprint? Talkaoke is a project that has similarly shifted its usual direct discussion format into a socially distanced one; conversations have started to get a sense of how this is achieved. Always a work in progress.