It's been a while since the last update, and with good reason. Many projects, little time to manage them all. I'm still working with James Stevens on the MZ Zone project, and maintaining meetings with the Caring Digital Meetup. Working with James' distinctly different style is a refreshing change, and definitely not a usual approach – really informative in ways hard to describe readily! Meeting and working with really friendly academics from the Open University has also been really useful inasmuch I get insight to a place I've never ventured.
Now about Caring Digital. This is a product of dialogues with my friend and colleague, John Sunderland, a Human Resources consultant. Over the past few years we have been on a journey to work out a way to assist front line workforce in social and healthcare to deal with the push for digital services. We started with Connecting for Care  – a great idea replicated by colleagues in LASA under the project title of Connecting Care. I was heartened by the similarities of purpose, but downcast by our collective lack of resources. As a result, I've become a fellow of the School for Social Entrepeneurs (attending a year long course), and attended many meetings about the role of 'Digital Services' and what is considered 'Digital inclusion' in this brave new world we seem to be entering.  Nonetheless, the conversations have continued, SE London Caring Digital was concocted. It has started as a meetup, but there is a hope to start a consortium of professionals in the same arena. Updates will surely follow about that.
A good result to come from the latest meeting recently was an invite to a Smarter Cities event, which seemed to be a follow up to the talks last year which I was part of.
A Smarter Approach? Mental Health as part of Smart City Development

Details of event :
This Symposium will bring together health bodies, Higher Education Institutions and Smart City Technology bodies. The afternoon event will explore methodologies for engaging young people in the design of mental health services, with a particular emphasis on technology-enabled solutions, new business models and services.

The Symposium builds on a Higher Education funded project (HEFCE) which looks at the way Smart City agendas can be designed around preventative mental health and the role that Universities can play in supporting this. This programme involves a collaboration between Ravensbourne, Loughborough University, London and University of Greenwich as well as Digital Greenwich and NHS Greenwich Clinical Health Group.

Speakers include: Dr Anthony Seldon, Vice Chancellor, University of Buckingham, Dr Joanna Choukier, UsCreates, Hannah Harniess Digital Health London and others.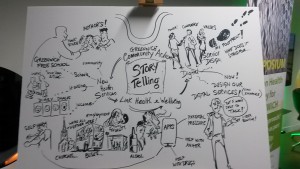 A really interesting series of talks, and the networking opportunity was tremendous! The pretext of inviting people to Caring Digital event next year was the motivation for going (won't speak too much about this just yet), and ended up meeting the amazing Emily Georghiou who invited me to a Tinder meeting in the city. Thoroughly enjoyable.