A refreshed relationship.
YT has had an occasional relationship with Mycenae House for some time, attempting a Breezie talk in 2014 and some drop in sessions. Alas that was short lived, hamstrung with the amount of marketing possible to one set of hands. Mark Johnson Brown, the centre manager approached me in early 2018 to start discussing and negotiating some ideas he'd been brewing. Mark wanted to include Digital inclusion/isolation as part of the centre's activities, this is when YT got to meet the amazing Deborah Fitzpatrick, coordinator of the aptly name Reach Out project and worthy colleague in the coming m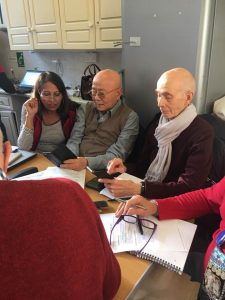 onths. The project was a community service addressing social isolation in the area, and as such there was much scope for soulchip involvement.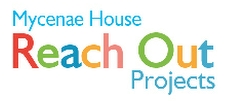 There was quite a gap from our initial meetings in April and roll out of the service (funded by Greenwich Neighbourhood growth) we called 'Mycenae Digital'. The funding covered my time (August 2018 to the end of June 2019) and also useful equipment such as tablets (2 Android and an iPad), a power pack for on the go charging and a mobile hotspot. After much bemused searching, a rather nice pico projector which became really useful, especially hooked up to a chromecast.
August surprises as we start …
Thinking we wouldn't get many people, attempted to do an August taster as a pre-emptive approach to the September rollout.This is the month often at the low point of the centre's footfall in the working year. People just kept on coming, to the point we had to decamp to the (thankfully unused) cafe and attend to the participants digital bugbears individually. With such an enthused response to the service, Mycenae Digital offered two types of engagement:
'Techy Time' social sessions – weekly group sessions with presentations/talks/workshops
'Inspect your Gadget'- fortnightly one to one tech troubleshooting, sessions are booked.
To give context of these sessions, the Mycenae Digital/Soulchip role was to break out of the usual digital inclusion delivery by providing sessions appropriate to getting people 'social and sociable', very much like how literacy and ESL (English as a Second Language) classes are largely devoted to creating a social setting by which all participants are together in their learning. It soon transpired that most people wanted us 'technical folk' to resolve their issues for them, which ultimately resolves nothing. Participants were encouraged to bring real problems to the one to one inspect your gadget sessions for real support rather than take up time where other people also needed attention. The amount of volunteers throughout the year was pivotal in resolving issues and as a marker for the type of session to be delivered. More about this la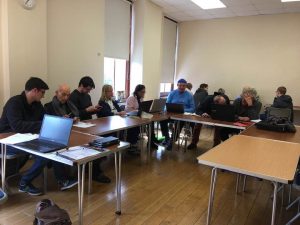 ter.
'its for the youngsters'
Younger participants under 50 attended as well as participants in their 80's and points in between. This was heartening and encouraged dialogue about what strengths older people can bring (understanding consequences) as much as young people's willingness to engage with digital activities (no fear of breaking things and a willingness to try new things). YT made every attempt to disabuse attendees of the 'better than' notions, as explained in my analysis:
Ask a young person or a supposedly 'tech savvy person' to explain how to write a letter on a computer; what is the format and structure of a letter? You'll then find out how much they really know.
This took a while to come across for many as myself and my stalwart volunteers had to work with built in bias, half baked opinions and a complete bemusement as to what is the block of plastic and glass in their hands. Everyone had a tactile introduction to their device (no matter what the device was), whereby they were given a starting point sensibility about what they owned. Owning the device was paramount and a constant reminder.
Learning their Way? I did it My Way in the end.
Throughout years of supporting many people at different levels of skills and abilities, a persistent couple of themes have emerged:
People learn to use the tools they need to use, for work or personal use.
Friends and family are great to have, but their digital cast offs, software installation and advice are hugely variable in quality.
The sessions didn't develop or expand these themes, but entrenched them further as touchstones of understanding; with this in mind there were only a few rules and one requirement (fill out a feedback form) to Techy Time social settings.
Everyone brings a notebook

Notes can be made by volunteers too (start with the goal, then number each step)
Drawings are recommended as well, anything to make things easier

Everyone should leave with a reminder

Recordings of presentations encouraged, but ask!
Photographs of the whiteboard after a presentation encouraged also.
Learn My Way was also touted as a means to expand on knowledge and skills outside of sessions, but there were ongoing issues; it took a number of sessions just to get people able to log in was a definite sign of participants in the group wanting social interaction as much (maybe more in some cases) than the technical know how and support. That was fine; every TT session had a good average of six attendees and over time the regular participation formed a 'club'. Sessions were ultimately were about quality interactions and having a good time, showing people the potential and possibilities of the digital tools available to them and assisting on particular goals. Overall the engagement with the learning platform diminished as the weeks went by and people found that active learning and being challenged to think about their own goals was a real alternative to learning on their own with only the contents of the website as a guide.
So what happened in sessions, YT?
Volunteer ratio to participants was a crucial factor in how sessions developed, and such my 'Game show persona' was employed to engage, entertain and provoke some thinking about the main aspects of digital use. With a mixed bag of devices this was no small feat, and prompted creative strategies:
A short talk about a topic, with an option to repeat Paul's analogy of the internet, with thanks to Futurama.
An open request for personal goals to accomplish – workshopping small groups with common themes.
An offer to have some fun and talk with volunteers about topics of interest gave good value. This option was added as the 'club' gained cohesion and comfortable communications.
As the 'game show host' is not necessarily a teacher providing learning opportunities, now and again structure needed to be maintained as volunteers needed to be directed/assisted and there were always other questions to be answered.
There were attempts at gaining a formative assessment from participants, to assess what had been achieved over the run of sessions – everybody asks to do a course, but when given an online course to accomplish, few would actually practice. Nonetheless, the last session was open feedback for volunteers and learners – post it notes on the board for two questions.
What have you learned and want to improve? (Yellow)
What do you plan to do in the weeks until the next set of sessions in September? (Red)
[ngg src="galleries" ids="3,4″ display="basic_thumbnail" images_per_page="18″ number_of_columns="2″ ajax_pagination="1″ use_imagebrowser_effect="1″]
The best outcomes are not achieved alone …
There were interesting scenarios with informal recruitment for volunteers. This ended up with people wanting to get involved for many reasons stepping up. Volunteers became quite a reliable 'squad', albeit much quieter than myself – their voices were encouraged to participate in the group talks and presentations, adding to the 'mix' as it were. Their knowledge and consistency more than complemented and supplemented my efforts, it was joyous and most warming to have good quality help.