YT was kindly invited by Faye at Lewisham Local to join in this conversation via Zoom to talk about Digital Inclusion, as part of the Get Online week activities. My first contribution was to start with a paragraph as to what Digital Inclusion means for me:
Behind every computer, tablet and phone a person is equal. We all get a chance to share, communicate, learn and take part in society using accessible technology of any kind, and inclusive use of technology can enable that. Saying that, internet access should be treated as a common utility, enabling people on low income to access services pushed there by 'digital defaults', 'digital first' initiatives and 'digital innovation' which presume that access is available for all.
Admittedly this was not the most inspired piece of writing, written in haste and late at night, but you dear reader surely will get the gist.
While looking around for useful links to refer participating local organisations, stumbled across a Government Digital Service blog entry promoting a Digital Inclusion method for their own use. While this is quite a high level and technical series of approaches, and not much about inclusion on a general or localised level, the list was valid and pinned down my thinking, which I'll use (and alter) for an outline of my talk, and the rest of this post:
Start with user needs – not our own
Improve access – stop making things difficult
Motivate people – find something they care about
Keep it safe – build trust
Work with others – don't do it alone
Focus on wider outcomes – measure performance
Start with user needs – not our own
For small local organisations, this is about being able to engage with their user base – can they access their organisation website? Is it updated on a regular basis? Have you designed the site for other people to use and not driven by committee – its not about you, its about how you present yourself. Can you forward a landline call to a mobile phone instead? Creating a newsletter in Canva is also an opportunity to reach out to your audience online and can be printed and delivered through people's doors.
Improve access – stop making things difficult
It may also be one of setting up internet access to the outside of a building that is shut, providing public wifi as people on a low wage may face difficult challenges paying for expensive PAYG (Pay As You Go) packages which don't offer much in the way of data. Place a router near a window, post the password! Do you know neighbours of your clientele? They may be willing to share internet access.
Note that SMARTY offer good data packages (starting at £10/month for 30 GB) with no credit checks.
Looking at the target audience for your website will be really useful, writing in plain English is always recommended for small organisations as is having a simple and easy to use layout/navigation. It may be useful to use a Google translate plug in to open up the options for people of other languages.
Motivate people – find something they care about
Now this is hard when people can't meet in person, but it may be an opportunity to consolidate the networks already built with all the good work your organisation has put in. This is where a newsletter or a regular mailout becomes useful, it may even be an opportunity for your organisation to harness some youthful creative energy. Competitions, crosswords, word games, even artwork can be used to lift and engage people, especially those that are having limited social contact. Its really useful to have an editorial team (spread the load and plan future editions) with these endeavours, especially if you want to go wild and create a podcast for your client base!
In terms of volunteers, they may need to be 'upskilled' to manage with the new online connections; part of their expenses may be paying to use data for training time. Online learning platforms such as the Open University, Alison, even Learn My Way have opportunities to learn, but these are best used with a computer, not a tablet or phone. Maybe worth a visit to the Lewisham Device libary! What's app groups are useful to keep people informed, bear in mind that older information doesn't get passed to new users; using a google document embedded in your site is a useful way to keep information that is relatively static, and that a notebook kept aside for online activities is everyone's best friend.
Keep it safe – build trust
Building trust is an ongoing effort; if your organisation has a safeguarding policy, then this needs to be added to and given a 'digital brush up', understanding that people shouldn't be sharing private information in chat rooms or video meetings, and GDPR guidelines are there to protect them. Networks of family and friends that you know about can be helpful and keep them involved too, even in a neighbourhood there may be mutual aid which can offer assistance.
Do you offer a support service by phone?
Many people without access to online services will likely just have a phone of some kind, and this could be their only connection whilst shielding. Setting up a mutual phone circle with a host to keep things civil is an idea, used to support veteran soldiers, but can be replicated to support a knitting club or other ongoing group where members know each other. Another possibility are 'phone book callouts' where somebody calls up an old friend or acquaintance that they haven't seen or talked to in a while.
Tech support by phone?
This is an opportune moment to promote the soulchip project starting on the 29th October, to provide a listening ear and helpful support with technical difficulties. Its a 10 week project and offers a morning call from a support agent and an afternoon Zoom meeting to start using '21st century video meeting chat'. Participants get a chance to practice their meeting skills and also have a chat with Paul and Jon about all things technical. You can download the flyer (PDF) here.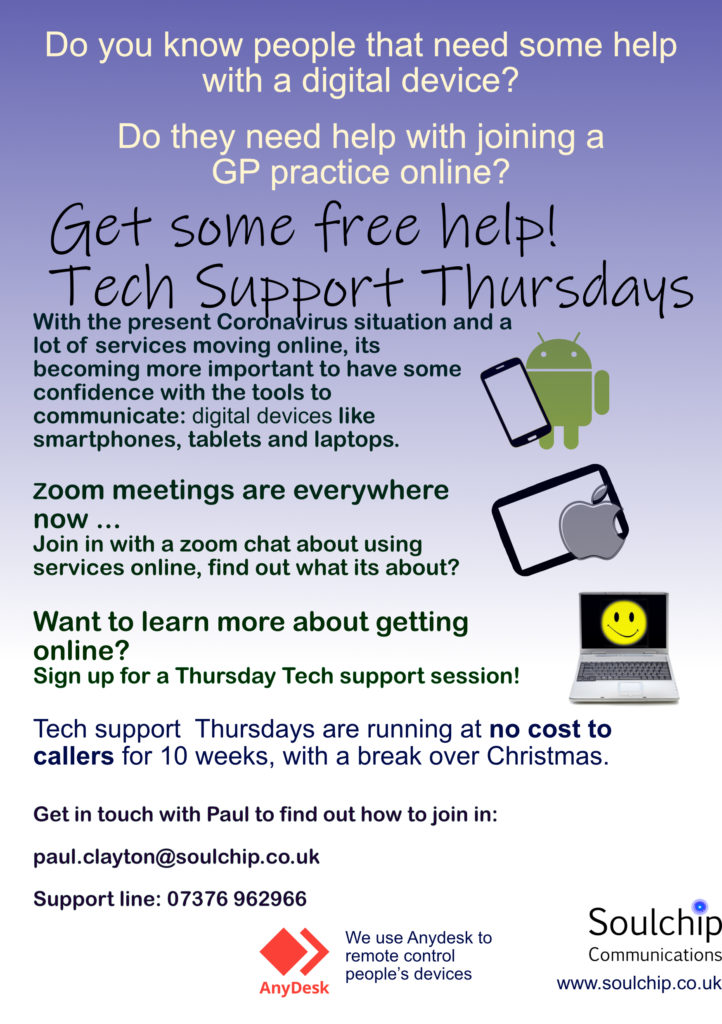 Work with others – don't do it alone
One of the problems I've come across in my work with community centres in Greenwich (I've worked with most of them) is a lacking of working together in terms of complementing services. I'm aware that many smaller organisations can become entrenched in their own work, and not creating the opportunities of collaboration; communication may be constructive, practical or just diplomatic, but not necessarily productive for a client base that may be borough wide, with edges blurring with a neighbouring borough.
With an emphasis on funding bids made in partnership, it may be also an opportunity to share skills and contribute together; that wild example idea of a podcast just got closer because two organisations (dare I say more?) and their networks could create an editorial team to manage the overhead. It also would provide a potential bigger audience too. It doesn't have to be a podcast, it could be distributing/designing a newsletter together, or sharing regular news and updates.
Finding the digital champions?
Lewisham has had the benefit of digital inclusion initiatives in the past, and unfortunately like many inclusion projects, has a finite lifespan; the work done so far has found some local digital champions, but it may be that corporate volunteering via social responsibility programs could offer greater capacity to help out with enabling a project to be fulfilled. Lewisham is filled with local entrepreneurs and small businesses that may provide assistance or even online access for local people. Existing networks may have people with some skills that can help out, but clarity of tasks to be accomplished and time scales is crucial in getting the best out of people.
Focus on wider outcomes – measure performance
The recommendations above may mean a lot of 'skilling up' in your own organisation – it may be time for a digital audit. This is a phrase for a time for management and employees to sit down together and list all of the social media channels, website details and other digital aspects of an organisation. This list can include who is doing what, the passwords involved with logging into each service – after the list is created, tasks can be given an owner. This can be done with post it notes and coffee/tea in a focused meeting session, a computer is only needed to collate everything. The list is then owned by the chair/management in case of problems – it is effectively a list of the organisation's digital assets, and workload can be seen to be allocated as appropriate to skills, knowledge and willingness to learn. After the list is collated and reviewed, volunteers can be given a focus as to where support is needed (again harnessing youthful creativity maybe). Its important that an organisation owns its information, and realises the gaps where people without digital access may need support.
Interesting links
The centre of Aging better is consistently good content, Inclusive volunteering for older people is their most recent offering.
AbilityNet offer a series of webinars about online access for people with disabilities, their advice about spotting scams is worthwhile for many.